Expanding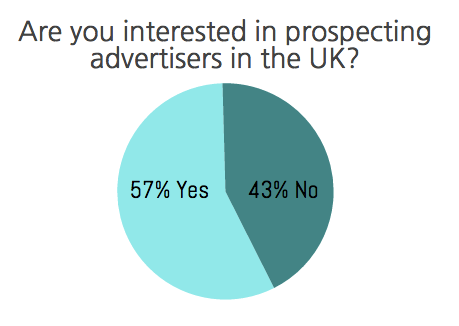 your prospecting reach into international markets can be a highly effective growth strategy. Starting in a country that speaks the same language (for the most part!) is a good first step, especially when you're able to engage divisions of companies you may already know or work with at home, while exploring a whole new set of prospects that exist solely abroad.
These are just a few of the reasons we asked if you're interested in prospecting UK advertisers, and though the edge is slim, a slight majority of you said you are indeed interested in prospecting across the pond.
If you're among those looking to engage British advertisers and agencies, we invite you to check out a few key accounts on the move our UK prospecting publication has been tracking of late.
If these opportunities look attractive, consider a trial of Winmo UK – the charming cousin of our recently launched US sales intelligence solution. Like its American counterpart, Winmo UK is an evolution of The List Online, which means it focuses on verified marketing decision-makers, contact information, and advertiser-agency relationships – only specific to the UK market.
Visit uk.winmo.com to learn more. Cheers!