It's difficult to talk about the best way to create an advertising contact list without talking about the dark days before truly great sales enablement tools hit the market. While it was a best practice 20 years ago, the worst way you can create a lead-generating marketing list in the 21st century is to attempt to scale that mountain of research yourself.
While the internet has changed how we can work, a staggering number of companies still eschew cost-effective software in favor of labor-intensive, low-ROI manual processes that ultimately cost them more in lost revenue.
Use a sales enablement tool
The best way to generate a business prospecting list is to use a sales enablement tool. There are a few on the market, and Winmo created an in-depth post about what kinds of features sales intelligence tools should have, but here's what most of them have in common:
contact information for decision makers—including email addresses and direct dial telephone numbers, departments, functions and job titles
ability to filter by industry, company and brand
export contact list in a variety of formats
The top tier products also provide contact information verification, along with additional features that allow users to filter by geographic location, media spend by channel and by quarter, or provide predictive intelligence to guide your outreach. So if you're looking to build a list of radio advertising contacts, these features are something you'll need.
Pricing on these software platforms varies, but as with most things, you usually get what you pay for. If a vendor tells you they have a team of 300 people verifying every piece of data you can be sure that translates to at least $5 million in annual labor costs—their platform should be priced north of $5,000 per year. If it's not, something doesn't add up, and it's not just the math.
Take advantage of every offer of a free trial, choose 20-30 target contacts and use each system to search for their phone number, email and any other information you're looking for. Judge the systems by their user experience for quickly finding contact information, then use those phone numbers and emails to determine which platform provided the most accurate data by reaching out to them.
Buy a business prospecting or email marketing list
Buying a list has the upside of being a big list of names and contact information. It has the downside that it's probably not up to date, and won't be segmented or filtered for decision makers in your vertical, either. If you had a solid list of people you love doing business with, and who love doing business with you, would you sell their email addresses to a stranger? If you follow that logic, the only emails you're buying are of people who you either can't or shouldn't try to sell to. But even worse, a purchased list increases your chances of getting your company blacklisted by email service providers.
Hubspot, an email marketing automation provider, suggests a few reasons you shouldn't buy an email prospecting list, but there are ways to build your email list without falling foul of the U.S. CAN-SPAM Act that outlines what you can and can't do when sending unsolicited marketing pieces. Since these methods typically involve building really useful content, having your website visitors opt-in and generally doing all the awesome stuff you're already doing (right?!), we'll talk about how to build an opt-in email list in another post.
For now let's just say buying a list for your sales prospecting or nurture campaign is definitely a thing you can do. But so is Burning Man, and you'll probably regret a week in the desert less (if you even remember it).
Social media, Google and the good ol' Rolodex
This is the solution a lot sales people are still using; plowing hour after hour of research time into building their list of sales directors' contact information, email addresses and phone numbers. They scour the internet in search of any tidbits of information in press releases, news stories and on the About Us pages of company websites and, if they're lucky, social media profiles on LinkedIn and GooglePlus.
It's tempting to say, "But if you don't have any money to invest in those other things, this is the best solution." And sympathetically, that feels true. But the fact is if you're spending 6 hours researching and only 2 hours prospecting, you're being incredibly inefficient and you may never get the traction needed to send the balance in the other direction.
When it comes to prospecting, you should be investing your time in outreach, not research.
Spending on hour per day doing non-sales activities like research and creating collateral can quickly create a huge lost revenue opportunity. If you sell $300,000 every year, that equates to about $144 per hour in earned revenue. Or, to look at it from the other side, every hour you aren't calling prospects or closing deals, you're missing out on $144 in sales–about $37,500 annually.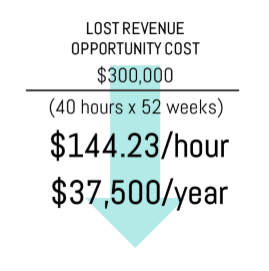 So the question you should really be asking is: does it make more sense to invest in a tool that can export a targeted call sheet for you in a few minutes, or spend more time looking for contact informaton that might not even be accurate?