Finding a brand you'd like to work with is only the first step in sales. After reading the eBook and scrolling through the bonus list of 100 brands planning in Q2, Winmo should be the next tab on your computer screen. Here are seven actionable steps to take within Winmo after you've identified the perfect sales opportunity:
1)  Research their ads and spending mix
Here's where to look in Winmo: Media Spend | TV Creative | Display Ads | Sponsorship Placements | Global Creative
You want to scope out their ad budgets and creative. What does their historical advertising investment look like? Has it gone up or done year over year (or quarter over quarter)? Then, examine the look and feel of their ads across channels. Are they consistent? Is there a clear brand voice and point-of-view? Does the design seem stale or has it been updated recently?
In Winmo: Company page > Agency roster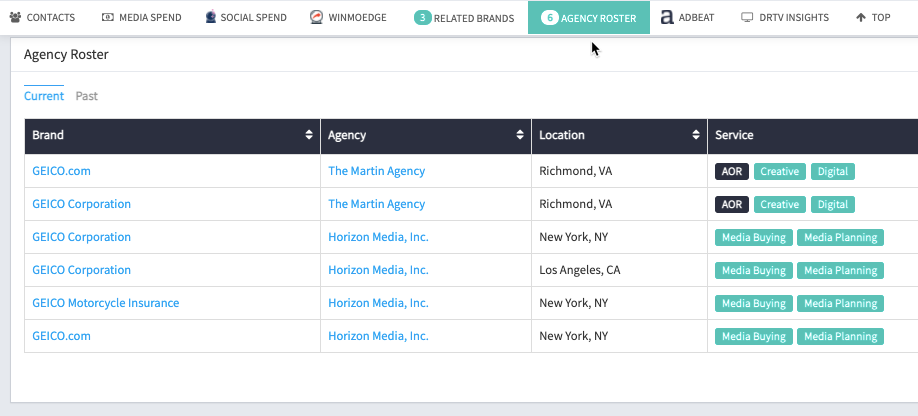 This is great information to have in conjunction with ad budgets and creative. Outdated advertising may mean trouble is brewing for their creative teams and AOR. Bonus: If agency decision-makers are typically part of your selling process, when you're in a Winmo brand or company profile, toggle to People > Agency Contacts to see key decision-makers assigned to the account (more on contacts below).
3)  Identify their decision-makers
In Winmo: Company page > Contacts
The filter here is your best friend. Search by the titles (and variations because, remember, every company's titles are different — just to ensure we never get too excited over a potential sales opportunity) you close the most deals with. Depending on the size of the company, you may want to go after a director or a manager first, then level up to the C-suite.
4)  Know the personality of the contact you're reaching out to.
In Winmo: Company page > Contacts > Choose your decision-maker > Crystal Personality Insights
Unfortunately, many sales reps (I've been one before, so I'm allowed to generalize!) often work off of a template for email outreach. The message stays the same while [LEAD NAME], [COMPANY], and [MEETING TIME] are shuffled in and out. However, in order to stand a chance at a follow-up, you have to communicate with people in the style they're most receptive to.
5)  Export key decision-makers to your CRM
In Winmo: Company page > Contacts > Select your choices > Create list and/or Export
Salesforce, HubSpot, and Microsoft Dynamics users can export contacts directly into their CRMs. However, even if you have to download through Excel, it's still important to have access to these important contact details in your customer relationship management system. I recommend you make a list in Winmo, too so you can access your list information the next time you're doing research in Winmo.
6)  Create a cadence
In Winmo: Home > Notes
When reaching out to these sales opportunities, plug in new and noteworthy details to show you've done your homework. And don't forget to track these details so you know what topics have been covered already — redundancy can often cost you a deal. Try the notes section in Winmo to not only map out your communication cadence, but to jot down talking points, too.
7)  Find similar opportunities
In Winmo: Company page > Related brands; Company page > Other companies you might like
Search the subcategory of the advertiser to find like-minded companies. Whether you explore related brands to drill down opportunities (and contact details) that are likely to have the highest return or scroll all the way down to similar companies, Winmo is a rabbit hole of opportunities.